Your Digital Learning Environment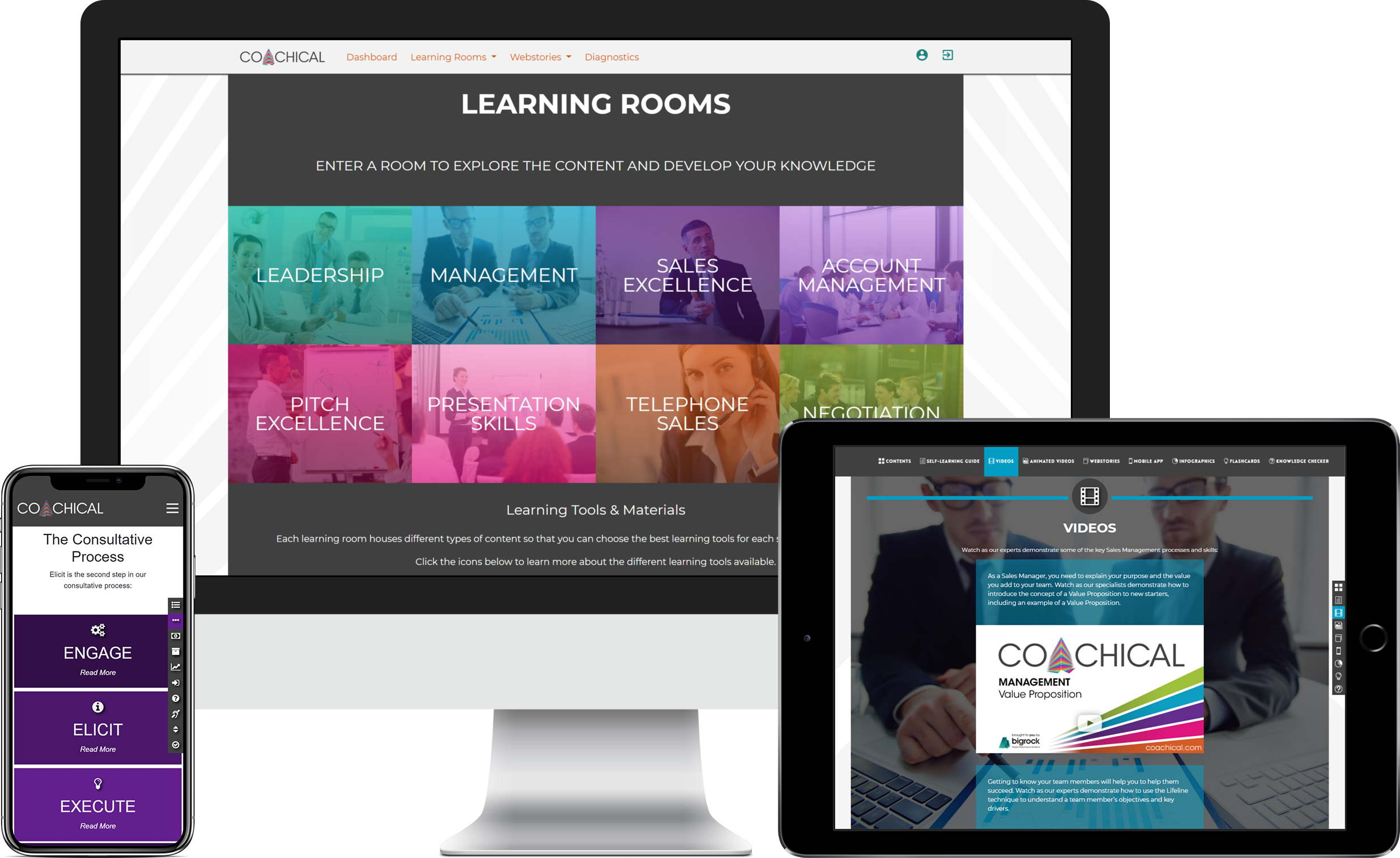 Explore best practice concepts and discover new approaches in our digital learning rooms
Enter a secure online library of first class learning. Move from room to room to discover different topics, from Management to Negotiation.
Delve in to the detail with our demonstration videos and self-learning topic guides. Or quickly refresh and test your knowledge with our flashcards and knowledge checker.
Share your own thoughts, event outputs and change commitments in the 'your journey' section. See what your colleagues learnt during recent workshops. View video role plays and activity outcomes from different groups and teams. Share success stories and key learns.
Building your Environment
We work with your business leaders to create a learning environment bespoke to your needs.
You can choose which topic rooms to feature, the content you'd like to include and what stories and event outputs to showcase. Or our expert Consultants can choose options to suit your needs based on our findings in discovery.
Choose from 8 learning rooms:
Each learning room features a range of learning materials to suit different learning styles, including…
Animated Videos
Engaging, fun and quick to watch, these short, animated videos are an easy way to begin exploring best practice approaches. Learners listen as our experts explain how to use and apply key tools and top tips.
Videos
Videos include demonstrations of core skills and processes, explanations of best practice models and Q&As with our topic specialists.
Self Learning Guide
Detailed guides explaining best practice approaches, with activities to help learners apply the tools in role.
Webstories
Vibrant and interactive, the webstories are perfect for exploring a specific topic in depth. Learners scroll through these interactive narratives that feature a blend of written description, videos, diagrams and activities.
Infographics
Our infographics explain a key principle, process or model in an easily digestible and visually impactful way. They often flow from one image to the next to outline the key stages of a process. They can be used as a visual aid when applying these skills in role.
Flashcards
Learners click through the flashcards to refresh their memory on key points.
Knowledge Checker
Learners test their knowledge with our Knowledge Checker multiple choice test.
Mobile Apps
Learners download our apps direct to their phone or tablet to access key learning aids at any time. The apps feature written descriptions, videos, top tips and checklists to help learners apply best practice in role.
You can also share your stories and event outputs…
Discussions & Sharing
We can also include a forum where learners can;
Discuss particular topics
Share ideas
Share their own techniques and approaches
Share their stories
Discuss progress and their development journey
Ask questions and seek guidance from colleagues and Bigrock
Our Digital Learning Environment can be used as a single learning solution or…
…as the online 'hub' of a broader change programme.
Support employees between events, workshops and coaching, with a central hub where learners can refresh their knowledge, reflect on the events and share stories.
…as pre or post event support for one of our training courses.
Learn key principles and tools ahead of a practical workshop. Check and refresh your knowledge after training. Revise and embed learning for 12 months following your event.
…or as a core part of your Bigrock Development Partnership.
Our partner clients draw great value from their environments. Their Learning Rooms act as the central hub for their development journey.
Some screenshots from our Digital Learning Environment
Contact Bigrock to schedule a demo of our digital learning environment