We explore the changing relationship between financial services professionals and their clients and the opportunities this brings.
There was a time, when the opinion of a professional carried a level of authority. It was known that professionals had knowledge, experience and qualifications. Clients were content to defer to their authority.
Some argue that this deference has been eroded in recent years by;
The wealth of information (though not necessarily expertise) now readily available on the internet
Social media and the opportunities it offers to challenge companies publically and ask advice from a much wider selection of people
The increasing ease with which clients can now seek redress in the courts and from regulatory bodies
Whilst the opinion of professionals is still sought and respected, many people are now more inclined to challenge the advice they receive from professionals.
In Financial Services this effect has been compounded by the public's loss of trust in the industry since the recession.
The 2014 Edelman Trust Barometer found that in both 2013 and 2014 Financial Services and Banks were the least trusted industries globally. Financial Services scored only 50% in 2014, with Banks scoring 51%.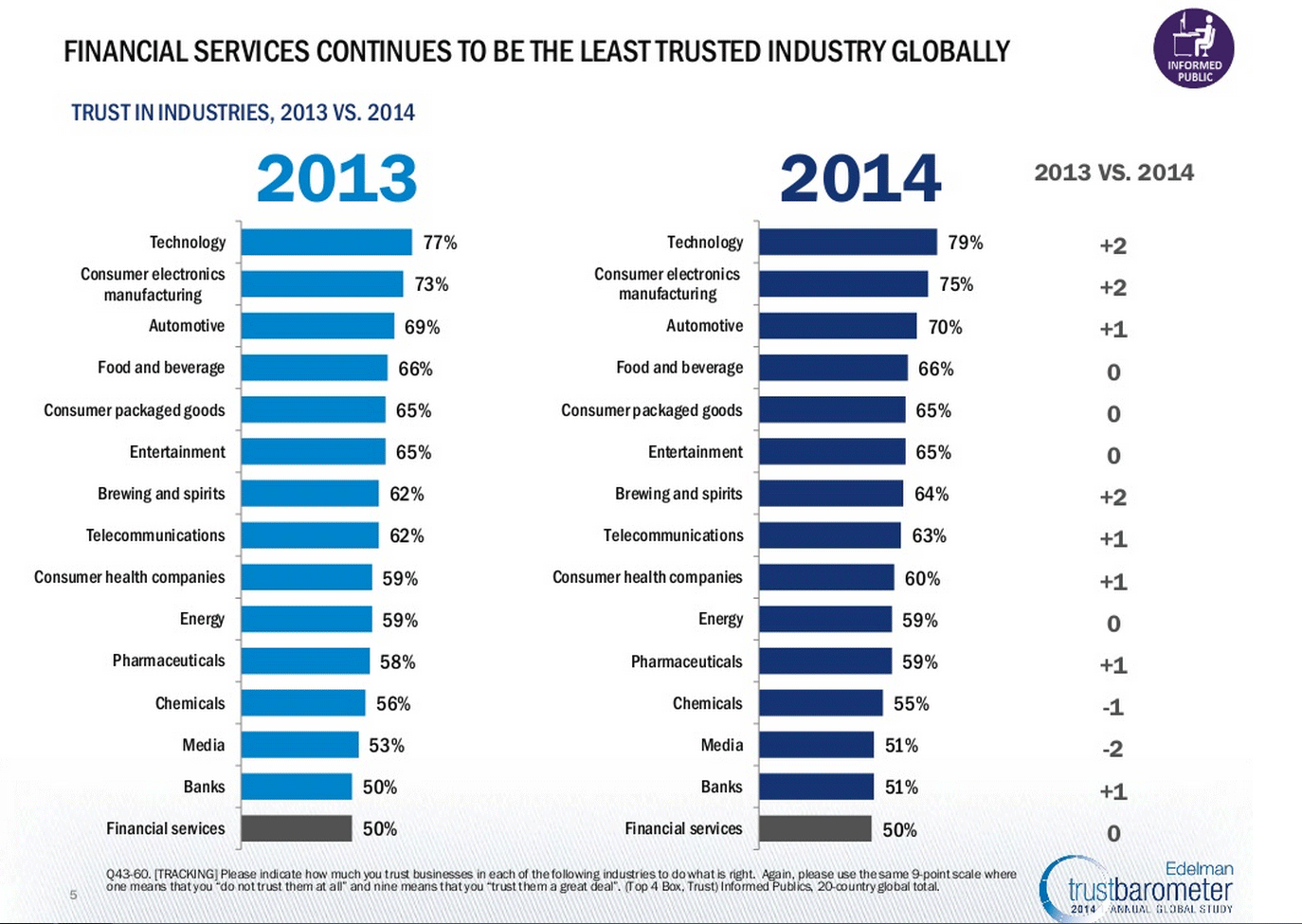 On a national level, the UK Financial Services industry scored just 37% and Ireland scored 23%.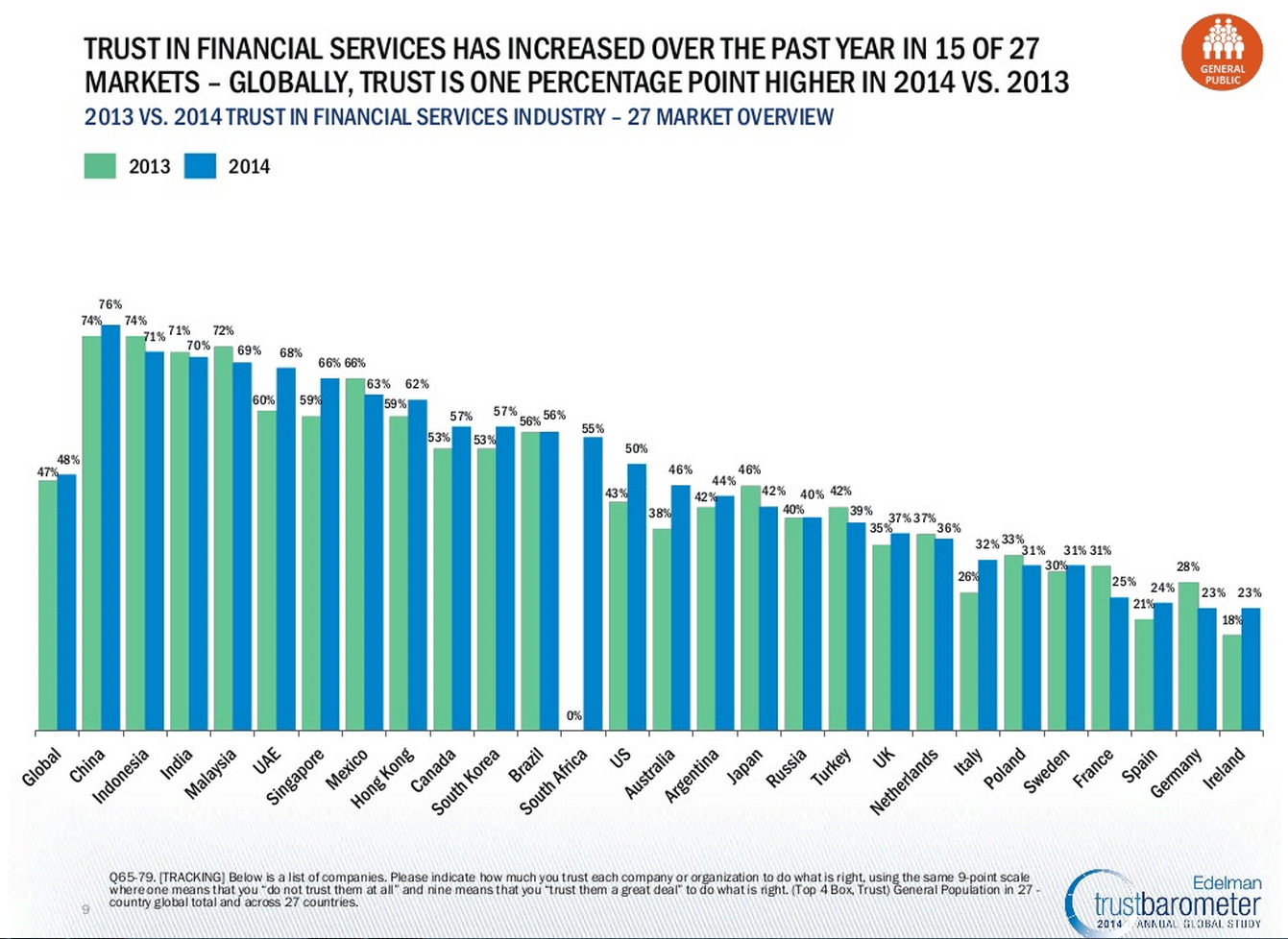 While both these scores are an improvement on 2013, Financial Services professionals clearly have a long way to go to rebuild consumer trust.
So what does this mean for you and your organisation?
It seems clear that the relationship between professionals and clients has changed and will continue to change…. but that's not necessarily a bad thing.
Consumers now seek a partnership with Financial Services professionals. They wish to participate more when choosing a product and often believe web research will help them with their decision.  Yet our studies of Behavioural Economics have shown just how complicated decisions around risk are and that intuition combined with a little knowledge often leads to a less than favourable outcome.
Some professionals may find that the poor information gleaned by clients through social media and web searches causes further biases and inaccurate perceptions. Clients now come to them with ideas about the industry, its services, products and ethics, which first need to be overturned.  Professionals have to be prepared to challenge back; to explain to clients where they are wrong, where they are deploying heuristics, biases and other Behavioural Economics phenomenon,  and where a better option is available.
Even where clients find valuable information online, information asymmetries between the professional and the client remain. Such asymmetries were explored by the FCA in their 2014 Risk Outlook. Although these asymmetries can generate conduct risk implications, the asymmetries themselves are not necessarily a bad thing. After all, the expert in the room is meant to know more and understand more. The challenge is to make sure that you pass this understanding to the client to enable them to make a fair and informed decision. That your expertise is used to help the consumer become better informed, challenge their misconceptions and select the right solution.
Clients' impulse to challenge, understand and learn about the products they are taking out should be encouraged. It presents an opportunity for the best in our industry to demonstrate the worth of their expertise.
It allows more scope for advisers to surprise customers with outstanding service. This opportunity to engage with clients in a thorough discussion of their needs and your products' features is highly valuable. It enables you to explain the benefits the customer can receive from a product. It also provides a chance to build a strong relationship with the client.
If the client feels they were involved in the decision process, that they have been listened to and that the product has been built, tailored or chosen specifically to meet their needs, they are more likely to follow your advice and engage with your company.
This post was inspired in part by a CII Thinkpiece, 'Public Perception and the Professions – from deference to partnership?', by Sue Carrette. Concluding her piece, Carrette summarised the professional's new role:
"Professionals were providers of information and expertise. In many cases they are now co-creators of solutions based on engagement and partnership."
Are you ready to 'co-create' with your clients? Do you use a consultative sales technique to understand their needs and potential biases? Are you prepared to challenge their misconceptions?
They are ready to challenge you!
In our series of white papers on Behavioural Economics we explore the effects common biases and perceptions can have on decision making in Financial Services. Enter your name and email below to download the first paper in the series or click here to access all our white papers.
Behavioural Economics Series: 1) Understanding Perspectives