What ultimately drives success in business? What takes an organisation from good to elite?
We believe the key to optimising any successful business is to develop its people.
Let's say you are looking to take your organisation to the next level. You're moderately successful; you are making a profit and your customers generally leave happy. You have the right processes in place and your people are capable and enthusiastic.
But how can you turn 'good' into 'excellent'? What is that special something, the key ingredient to make your business an elite organisation?
For us, and our partners at Northampton Saints Rugby Club, it is people with belief!
Your people and their efforts ultimately drive your results. A new product is developed thanks to the idea of one of your designers, a team in enthused by the energy of their manager, a customer leaves delighted thanks to the efforts of your customer service agent and sales are increased because of the commitment of your sales team. Great results are the outcome of your employees' behaviours; what they do and how they do it. This can improved through training, management or governance.
Yet the most effective way to encourage the right behaviours is to instil the right belief.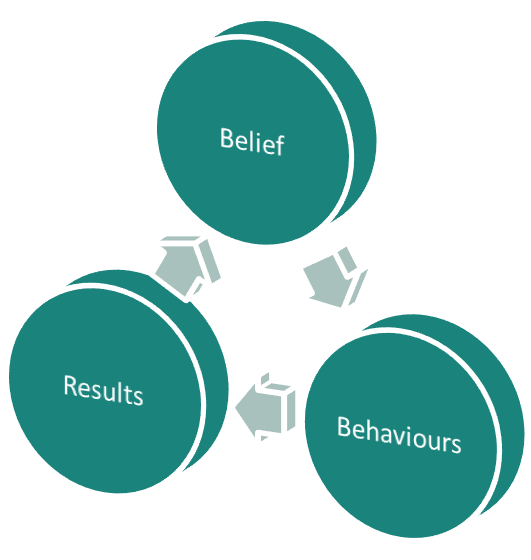 In our work, we have seen organisations from start-ups to global corporations transform their business by nurturing a strong collective and individual belief. A belief that you can and will succeed is an immensely powerful driving force for any change. When individuals believe in themselves, their colleagues, their processes and their pathway to success they are more inspired, enthused and proactive in applying new behaviours.  When people believe an approach will work, that they will achieve a sale, win an opportunity or create something new by applying particular behaviours, then they are more enthused, more committed and more willing to go the extra mile.
If you can inspire your people to believe in your vision for an elite organisation, this will inspire them to push through changes, apply elite behaviours and make your vision a reality. In the end, if the right belief is inspiring the right behaviours, you achieve the right results.
The power of belief in business is mirrored in sport. Here a strong belief, both individual and collective, is essential for success. Our partners at Northampton Saints set their players up for success by nurturing this kind of belief. They recognise that talent and practice is not enough to continually succeed at the highest level… you also need to believe you can and will reach your goals.