1) The Digital Age
Advances in online and mobile technology have brought huge changes in many industries, from communications to travel, from banking to recruitment. The way we search for information, the way we discover new things, the way we communicate, the way we buy and sell, etc. have all changed hugely since the beginning of the digital age. These changes have also affected Learning and Development. No longer does corporate training simply mean a classroom, a trainer and a PowerPoint. Gone are the days when distance learning consisted of paper guides, library books and public broadcast television programmes.
New technologies, new methods of communication and new demands from learners have helped inspire a range of new alternatives for delivering training and managing the development processes; from e-learning to mobile apps, online libraries to learning management systems, to name just the most well-known.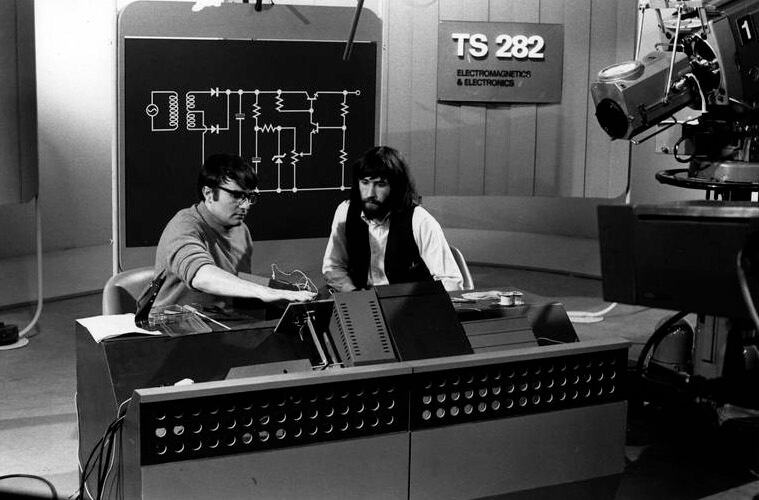 Open University Television Broadcast: Open University presenters working on the set for a programme distance learning course. environment.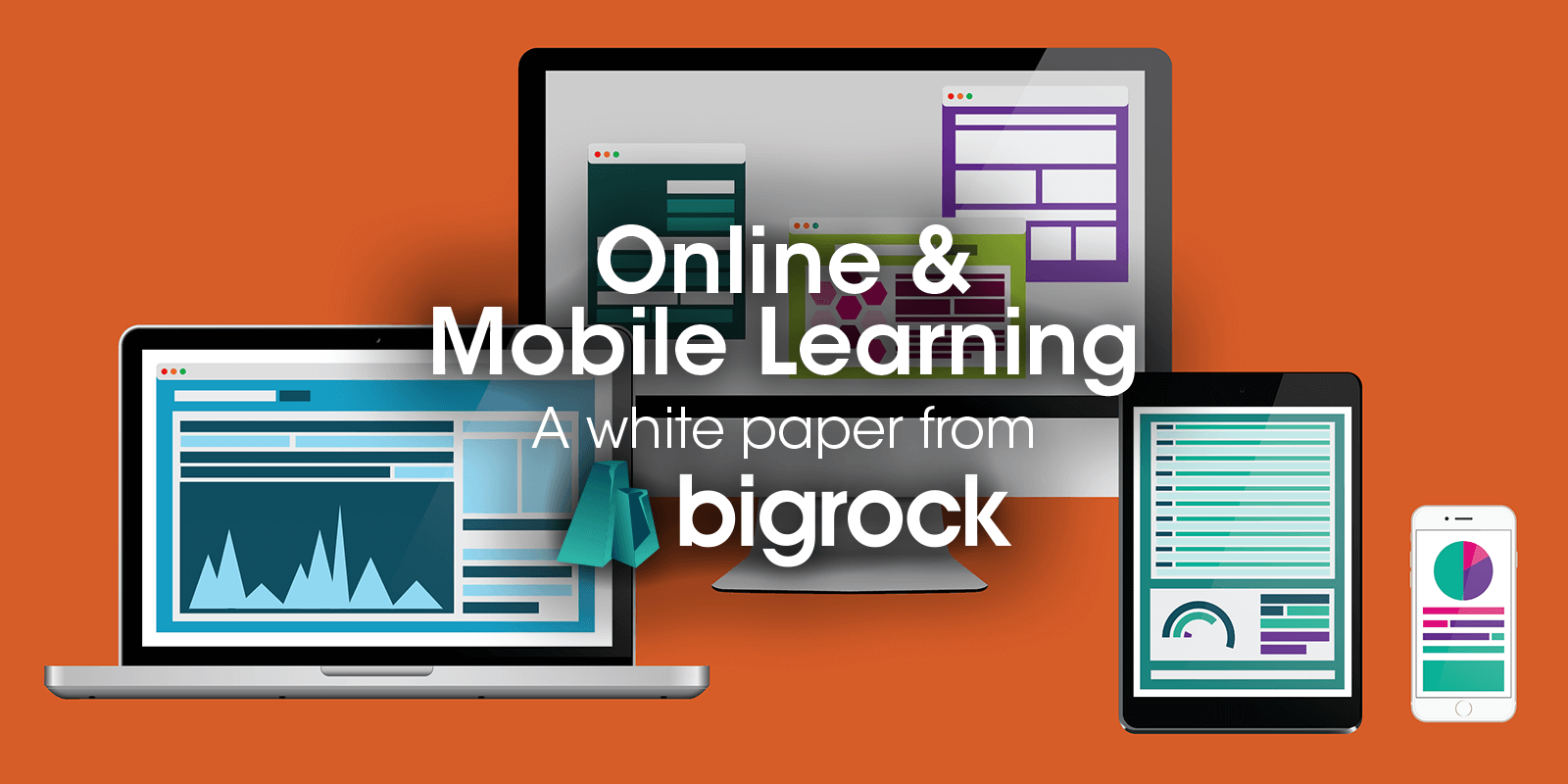 Don't have time to read the whole white paper right now?
No worries. Let us send you a copy so you can read it when it's convenient for you. Just let me know where to send it (just takes 5 seconds).
In addition, traditional mediums have evolved. Classroom training still plays a huge role in learning and development, with many arguing that you cannot replace the value of live observations, discussions and practice with an experienced trainer and a class of other learners. Yet the tools used in these environments have advanced greatly. Learners are often asked to bring their own mobile or tablet to use within a workshop. Training often includes videos, highly advanced presentations, gamified elements, etc.
With the invention of eReaders like Kindles and e-book apps, the way many of us buy and consume books and other personal learning materials has evolved. Online videos, podcasts and webinars can be seen as an evolution of the traditional open university television broadcasts of the past.
Technology continues to advance and with that the possibilities for online and mobile learning. Many younger employees joining the workplace today, do not remember a world before search engines, social media and mobile phones. For today's employees, of all generations, these technologies have become part of the way we work and the way we learn. As tech companies continue to explore the potential of wearables (smart watches, glasses and headsets) and augmented reality apps and games (e.g. games like Pokémon GO), who knows what we may be able to do in corporate education in the (near) future.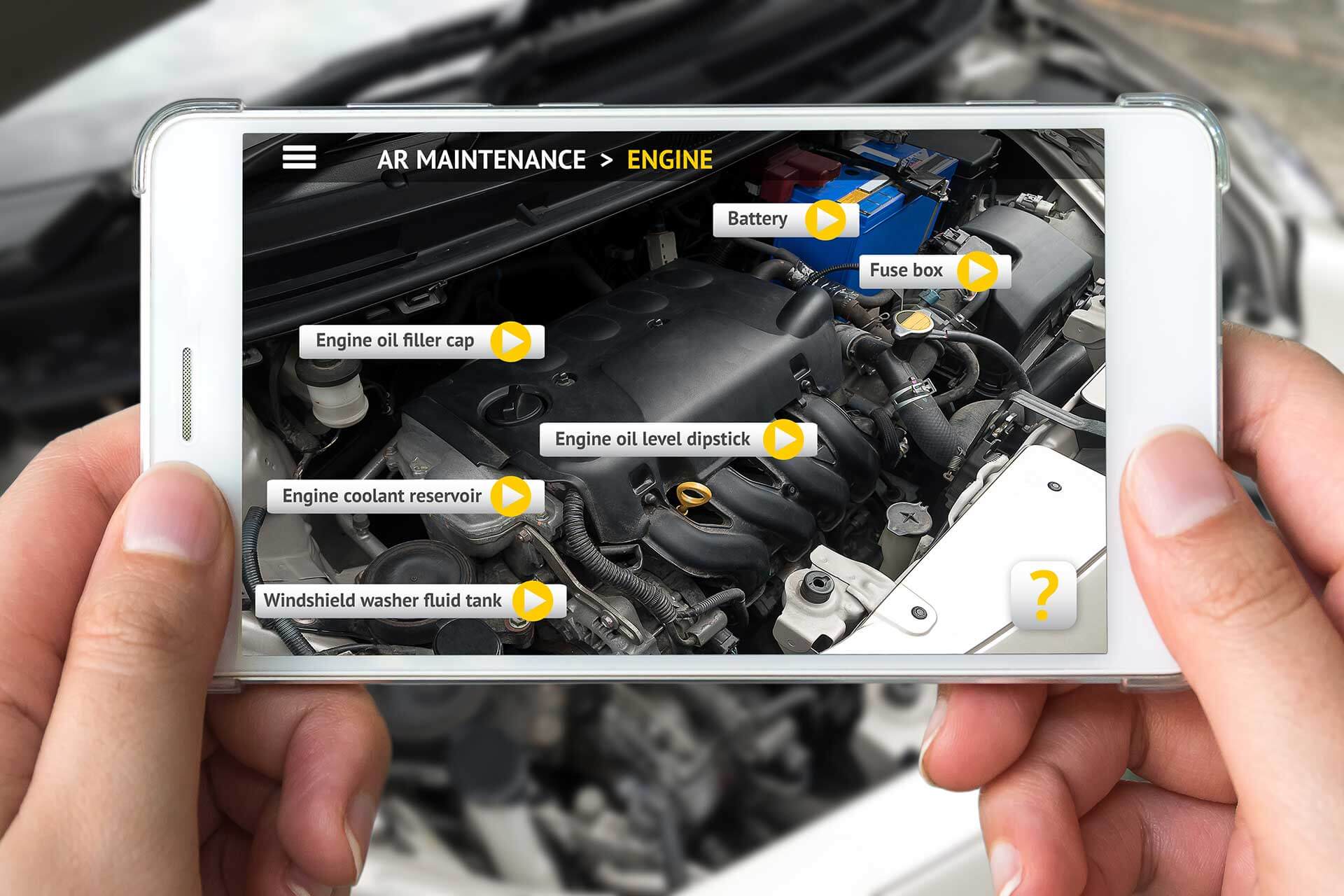 Augmented Reality: Experts are already finding ways to adapt augmented reality software and wearables for use in learning.   
It is our responsibility as L&D professionals and business leaders to keep an open mind, explore the options and stay at the forefront of this thinking so that we can continue to provide inspirational and effective learning solutions that work for tomorrow's learner.
In this white paper, we look at the value of different online and mobile options and the benefits of embracing a blended approach that uses a mix of online, mobile and face-to-face learning. Finally, we explore some examples of where companies have embraced mobile learning solutions.
2) Common Misconceptions
When discussing online and mobile learning options with clients, we often hear the following misconceptions;
"eLearning is great for simple knowledge based courses like Health & Safety or product training, but can it work for learning skills like sales or negotiation?"
Online tools are a great way to present and share information. As such, they are excellent for knowledge based learning. However, online methods can be used to develop skills too. The opportunity to see expert demonstrations and practice new techniques are crucial to learning skills like consultative sales or negotiation. Whilst practicing these with an expert consultant is, in most cases, the best approach, with a bit of imagination and creativity online tools can create a similar experience.  For example, practical demonstrations can still be shared via video. Tasks can be set and learners asked to record their practice for validation and feedback.  Digital and mobile technology can also be used to create a safe yet realistic scenario. We will explore this further later when we look at the Lifesaver case study.
"In eLearning people just click through and don't take it in."
Traditional eLearning is often criticised for its 'click-and-read' content, where learners are asked to read reams of information and then click through to the next page. Many learners succumb to the temptation to just scan through as quickly as possible. Even if the learner does read all the information with care, this is not a very engaging, inspiring or active way of learning.
Effective digital learning is designed to appeal to a wide range of learning styles. The best learning designers create a mix of video, audio, written and image content combined with activities and testing scenarios that enable learners to practice new techniques. Increasingly online learning includes the ability to submit your own content, be that video, image or text, discuss key topics in blogs and participate in online group activities. The experience can be personalised to the learner, ensuring content matches their specific needs and development journey. Whatever your experiences of online learning in the past, we would urge you to explore what's available now and continue to check what's developed in the future.
"Our people are busy… they don't have time for this"
Unlike most face-to-face training, mobile learning can be designed in bitesize chunks, that enables people to optimise their skills at their own pace, as they work, e.g. on the train journey to a client meeting. We explore this further in our Vodafone case study.
One of the major benefits of mobile learning is its accessibility. Learners can access learning content whenever and wherever they need it. With more people working from home or working flexible hours and with customer / client demands changing, many businesses find it difficult to arrange for a group to come together for classroom training. Online learning eliminates travel time and expenses. Instead, learners can access videos and apps when they need them or contribute to an online discussion or webinar from any location.
"Online learning is great for our less experienced employees but our Senior Executives want face-to-face events"
Although more senior employees are sometimes less comfortable with technology and may claim a preference for face-to-face events, they in fact stand to benefit more from new technologies. As Clark Quinn, a recognised leader in learning technology strategy, explains, formal face-to-face learning is most effective and valuable when learners are novices in the subject.

Novice to Expert: Once you have a certain level of expertise in a topic, the most effective way to learn is through sharing and discussion with other experts. This lends itself to online and mobile learning.
As performers gain experience through practice, they know what they are doing and what they need to improve on. They need less direction and simply need guiding to most relevant information. At this stage, learners need time and the mechanisms to help them reflect on their learning and performance. As such, performance support tools, mentoring and coaching are most valuable.
Once the learner becomes an expert, they cannot learn much more. What they need now is 'creative friction'; the opportunities to interact with other experts around tasks and ideas.  Many experts gain greater value from the opportunity to share thoughts and ideas with other leading experts in the business. An online learning environment enables them to engage with the best in your business across the globe, when it suits them.
Often businesses will ask us to provide a tiered solution where senior employees are given face-to-face training, whilst those in more junior roles access online solutions. Quinn's argument would suggest this should be reversed, however, sometimes it does make sense. Managers and Leaders are crucial to the success of any change programme and it is imperative they fully buy-in to any development initiative. Coaching and face-to-face learning can be the best way to achieve this. Plus, our Vodafone case study shows how online tools can help new starters find their feet. Consider your own business situation very carefully when choosing where to utilise online tools. Do not presume that online learning tools are only suited for one particular group or demographic in your business.
3) So what is mobile and online learning?
There is a vast array of online tools available that can help increase your knowledge, optimise your skills and improve business results. This is an ever moving field, with many specialisms and many different systems. Below we have provided an overview of just some of the things you can do with online tools;
Deliver content in a range of formats including;

Written content
Images
Infographics
Live video demonstrations
Video messages
Illustrative / animated videos
Podcasts
Apps
Etc.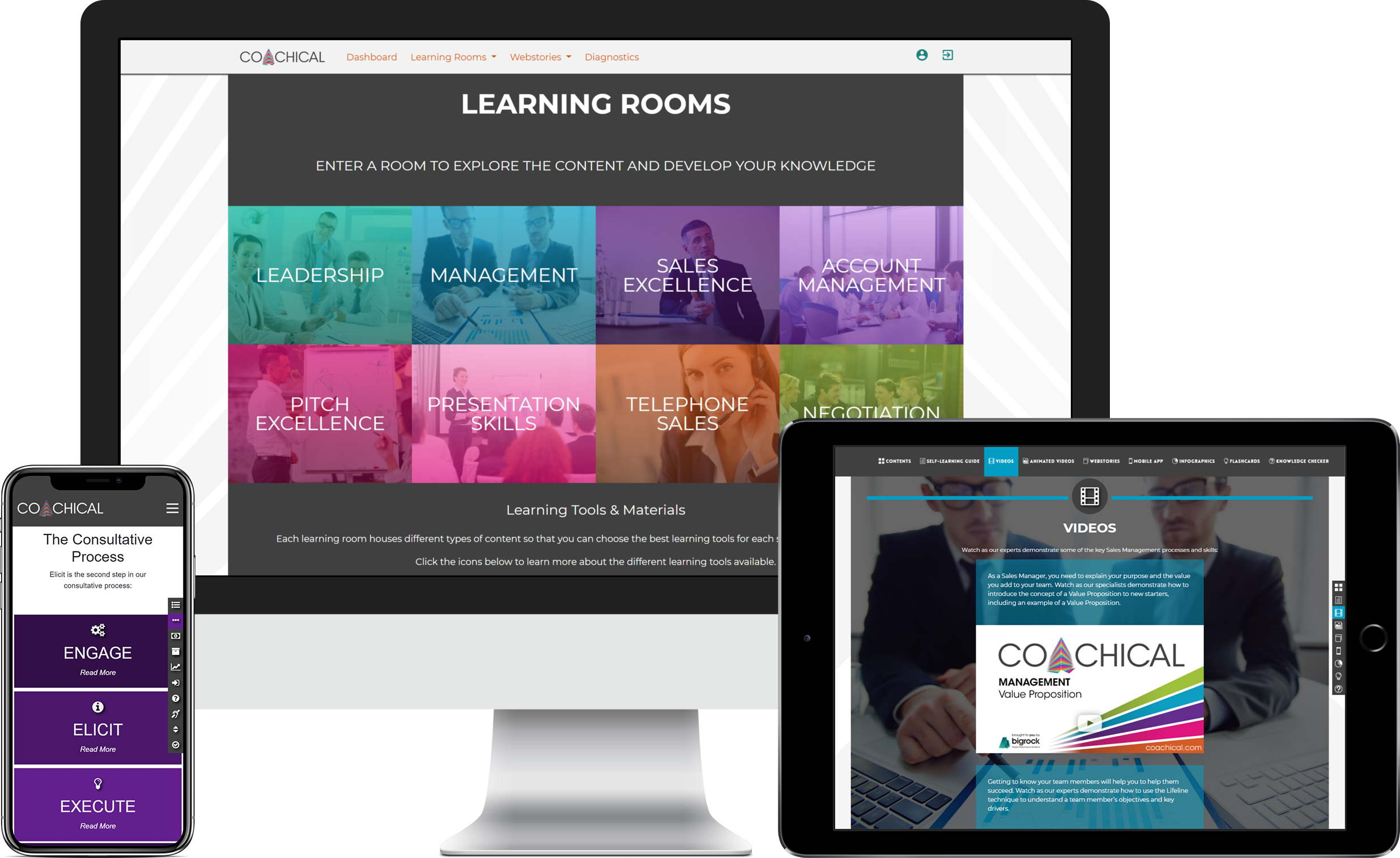 Examples of Mobile & Online Learning tools: Coachical hosts a wide variety of media, and interactivity.
Deliver live content in the form of webinars, live chats, etc.
Enable quick access to highly relevant content with search functionalities.
Pinpoint learners' specific areas of need through questionnaires, capability management systems, knowledge testing, etc. and then signpost them towards the most suitable content.
Bring in external perspectives with web and social media feeds on key topics.
Encourage discussion and sharing with internal chat, discussion forums, blogs and wikis.
Ensure collaboration with web conferencing and group activities.
Encourage user participation with gamification techniques, i.e. score boards, rewards and badges for completing particular activities.
Send reminders to encourage learners to reengage with content, refresh their learning and embed new techniques in role.
Track individual, team and organisational learning pathways and progress.
Reach a much broader audience with the same level of investment.
The best development programmes combine a mix of the above with other options like formal training, coaching and mentoring for a fully blended approach that appeals to a wide range of learning styles and preferences.
4) Case Studies
Organisations of all sizes and industries are exploring how they can utilise online and mobile learning in new ways. Below we consider 2 examples.
4.1) Vodafone – Learning on the Shop Floor
Vodafone wanted to reduce time in the classroom for new employees to enable them to spend more time with customer and to learn the basics from their colleagues. With shops located up and down the country, they wanted to give teams from different outlets the opportunity to share best practice. This required a more flexible way of delivering learning than their previous face-to-face inductions and training. Traditional communication of PowerPoint slides and pdfs had been ineffective, in part because computer access in stores was limited. However, all employees had smart phones, so they built a mobile app.
Vodafone's Learning Technologies Manager Mike Booth told HRD Connect:
"That really encouraged us to look at mobile first solutions…The other thing is the stores have a lot of traffic, a lot of footfall, so there's a lot of peaks and there are some troughs – so when you're between customers and have a spare 5-10 minutes, we really needed to utilise those troughs in our favour so they weren't down time.
"We put key bits of learning, short sharp videos or pdfs into a learning plan which they access through their mobile device."
The app enables employees to access different feeds, based on their seniority, location and other needs.  It also provides a stream where employees can contribute their own thoughts and experiences, via text, images and videos. Employees are encouraged to participate by their managers, by notifications sent to their devices and by leader boards which reward activity.
Managers can use data from the app, showing their team's learning activities, to help them plan observations and create learning plans.  This data can also be scaled out, so that Leaders can see larger trends and where additional training should be targeted.
The app was designed to encourage and support peer mentoring activities and management, so learners still received that human support. It also ensures induction focuses on the in-store experience. 
97% of the retail division's 4,000 employees actively use the app at least once a month; it receives 10,000 page views every day and the "real eye-opener" was 30% of usage happening outside of work hours.
"The key for us wasn't about switching on an app, it was really a business transformation process, and we're really happy with the first year's results…For the future of L&D, mobile and bitesize are going to play an absolutely massive part. This has switched on so many lights for us that this is the way we're going to try and go from here."
This case study shows how mobile technology can enable organisations with challenges around time and customer demands, a wide range of experience and skills, and with branches in many locations, to offer employees a useful, relevant and personalised learning experience.  We believe this is a great example of how businesses can use mobile learning technologies to enable discussion, sharing and learning around customer excellence.
4.2) Life Saver – CPR Training via Mobile Technology
Lifesaver is a crisis simulator that combines live-action film with learner interaction to teach CPR via a computer, smartphone or tablet in a really innovative and effective way. It is a live action video which the user 'plays' like a game. It throws you in to the heart of the action, asking you questions which affect what happens next and correcting you when you do it wrong.
CPR First Aid training would be easy for us to dismiss as so widely different from the sales, customer service and management development we typically focus on as to be irrelevant.  However, we urge you to consider this as there is much we can learn from. After all, many first aiders could easily have argued that CPR can only be trained effectively in a face-to-face workshop before viewing this app.
You can have a go for free online by clicking this link: https://life-saver.org.uk/. Not only will you be inspired by the power of mobile learning, you'll also learn CPR, so it's definitely worth a go. This is first class stuff. The app won 4 Gold and 1 Silver at the E-Learning Awards 2013, the first quadruple gold win.

Screen Shots from Life Saver: Life Saver puts you in scenario, asks you to answer questions about what to do next, and implement certain actions by moving your device or sliding over key elements.
The Resuscitation Council (UK) worked with design company UNIT9 to create this unique piece of learning that really immerses you in an emergency situation.  When "Jake" collapses from a heart attack, you are questioned about what to do at each step, with a clock running to represent the need to respond quickly to prevent brain damage or death. When it's time to administer CPR, you're prompted to swipe your tablet or phone up and down in the air (or click keys on the keyboard) in the speed of the chest compressions. You can see and hear the patient's chest moving and the effort needed to do the compressions as the app tells you if you're going too fast or too slow. There are different levels to unlock with different scenarios to try. This really is active, scenario based learning, delivered via an app.
This app, in some ways, captures the reality of an emergency in a much stronger way that a traditional First Aid class would, a way many would have believed impossible on mobile learning.
Whilst this learning material was clearly more expensive to produce than a traditional day's training, once designed, it can now be used by thousands, even millions, of learners. Learners can go back to the app to refresh their knowledge and show friends whenever they want. It is hard to imagine how the Resuscitation Council (UK) could reach so many people and deliver such memorable learning using more traditional methods.
It is easy to dismiss new innovations like mobile and online learning as not suitable for our situation. However, with a bit of imagination, online or mobile solutions may enable you to do something more impactful, something that will reach more people, something that may work better.
"If you always do what you've always done, you'll always get what you've always got."
5) Considerations when selecting online learning
So, when you next embark on a learning and development or change programme, remember to consider online and mobile options too. Ask yourself and your colleagues;
What are we trying to achieve? What is our ideal outcome?
What is the need, the problem, we are trying to solve?
What is the most effective, inspiring and efficient way to solve this and achieve our ideal?
Are there new technologies that we haven't used in the past which we should consider now?
Who is the audience? Would they gain value from an online / mobile experience?
Does the audience have access to a computer, a tablet, a smartphone? What's their preferred device?
Are there economies of scale to be gained from using online and mobile learning?
Should our programme be entirely online, or would a blended approach combining mobile, online and face-to-face elements work best?
Could digital learning techniques be used within classroom training to enrich the experience?
How can online and mobile learning support ongoing management?
Can online and mobile solutions be designed to complement other elements of the programme, like mentoring, coaching or classroom training?
How can we design online learning to appeal to a wide variety of learning styles and experience levels?
Who will promote our online and mobile solutions in the business to ensure both the most experienced and least experienced colleagues contribute, share their stories and engage with the content?
How will we measure the effectiveness of online and mobile learning?
We believe that online and mobile learning will become more and more widely used. As the available technology grows, ideas develop and systems mature, businesses will see greater value from these options and embrace a blended approach.
As learning professionals, we need to ensure the right balance between online and face-to-face learning is maintained. It is important, that whichever learning solutions you use, you ensure they are suited to the particular needs of your company and the requirements of your project.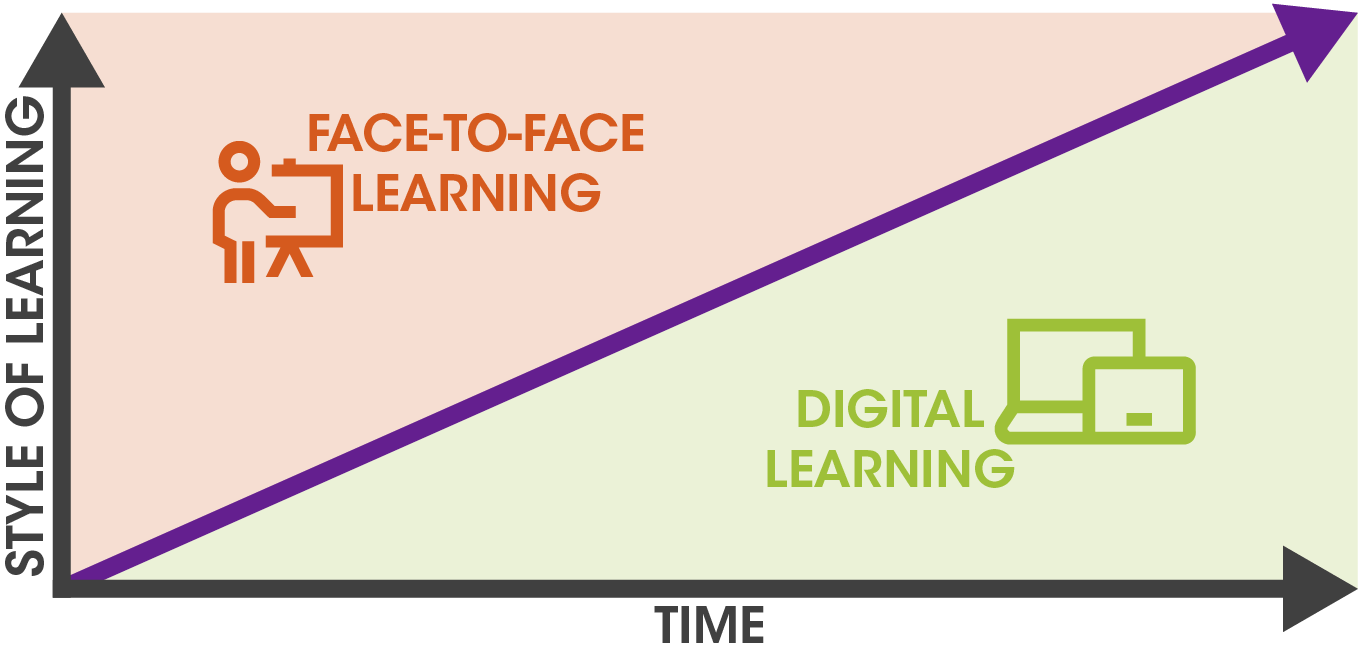 Shifting the balance between face-to-face and digital solutions: The balance between face-to-face and online learning is shifting. As time passes, digital learning is becoming more and more common. 
Some business leaders and learners may immediately embrace online and mobile learning; some may take more convincing.  Learning designers need to ensure that the training provided pushes the boundaries of innovation without leaving behind traditionalists. If your company has previously done all training through face-to-face events, replacing this immediately with a purely online offering is unlikely to work well.  We recommend gradually introducing a blend, so that business leaders and learners alike can experience the functionality, benefits and results of an online and mobile approach.
Once leaders and learners see the value of online and mobile learning, you can begin to shift the balance towards more online and mobile learning. As with all innovations, if you can stay ahead of others in the industry and embrace online learning more quickly, this will give you an advantage over your competitors both commercially and when attracting top talent.   
The potential uses and benefits of online and mobile learning are growing each day. The potential for the future is huge. Now is the time to get your trainers, learners and leaders comfortable with digital learning tech. Introduce a blended solution now, see today's benefits and be ready for those of tomorrow.
Bigrock Online & Mobile Learning
Bigrock offer the following online and mobile learning solutions;
Mobile Apps – We have a range of mobile apps on key business skills, from negotiation to pitch to sales.

 

Our apps are available to download on the App Store and Google Play, for apple and android devices respectively. We can also design bespoke learning apps to support your specific change programme. Learn more about our apps and app development options at:

https://www.bigrockhq.com/mobile-apps/

Our digital coaching tool Coachical – Coachical provides learners with the right learning materials at the right time, via a dynamic, personalised coaching plan. This coaching plan suggests learning materials and activities to reflect the learner's diagnosed needs and development progress. Plus, with regular reminder notifications from our automated 'robo-coaches', learners are prompted to complete their learning journey, refresh their knowledge and embed key skills in role. Discover more at

https://coachical.com/

.
If you would like to learn more about our digital solutions and discuss your needs, please call +44 (0)1280 820 780 or email enquiries@bigrockhq.com to arrange a consultation and demo.
Subscribe below to receive our latest insights direct to your mailbox.
Bibliography
Quinn, Clark 'Learning Technology in Business and Industry', in Rushby, Nick and Surry, Daniel W (eds.), The Wiley Handbook of Learning Technology, (Chichester 2016), pp. 145-159.
Resuscitation Council UK, Lifesaver, https://www.resus.org.uk/apps/lifesaver/, (accessed 3/8/2016).
Sheehan, Tony 'HR's future strategy for digital learning', HRD The HR Director, 8th July 2014, https://www.thehrdirector.com/features/training-and-development/hrs-future-strategy-for-digital-learning/ (accessed 29/6/2016).
Thomas, Owain 'Why Vodafone is heralding the revolution of L&D', HRD Connect, 18th May 2016, https://www.hrdconnect.com/2016/05/18/why-vodafone-is-heralding-the-development-of-ld/, (accessed 29/6/2016).
Unit9, Lifesaver – A New Way to Learn CPR, https://www.unit9.com/project/lifesaver-cpr/, (accessed 3/8/2016).